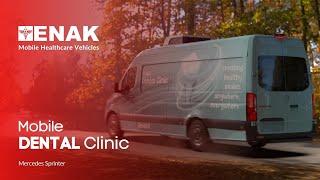 1/16
Modelo
MOBILE CLINIC DENTAL VEHICLE
Ubicación
Turquía
Ataşehir -İstanbul
Fecha de publicación
más de 1 mes
At Enak ,we convert the ''Mobilehealthcare Vehicles'' according to needs and wishes of customers all around the world.We have started our operations in Germany in 1993 and continue our 28 years of experience in Turkey and are exporting worldwide.

Enak , continues its activities. in Turkey, which provide the most accurate and superior quality and reliable delivery is part of our success as well as tailor made solutions and we are committed to our customer satisfaction with competitive prices and fast service.

At Enak ,we have developed different models of simple and efficient mobile screening and dental care units, based on the assumption that the whole WORLD needs to have access to overall medical care and particularly dental care.
Completely self-sufficient, they can adapt to all reliefs and climates.

Dental mobile clinics are becoming an important part of the whole medical system. All these things are important in order to deliver better lifestyle habits and grow better generations.

Some technical elements as below,
Screening, Cares, Surgery,
Intraoral or Panoramic X-ray,
Installation of any brands,
Laboratory,
Installation up to three dental chairs,
Leas-protection adapted to local regulation,
Self-sufficient,
Wheelchair access,
Mobile units from 3,5 to 32 tons...
Bei Enak bauen wir die "Mobilen Gesundheitsfahrzeuge" nach den Bedürfnissen und Wünschen von Kunden auf der ganzen Welt um. Wir haben unsere Geschäftstätigkeit in Deutschland 1993 aufgenommen und setzen unsere 28-jährige Erfahrung in der Türkei fort und exportieren weltweit.

Enak setzt seine Aktivitäten fort. in der Türkei, die die genaueste und beste Qualität und zuverlässige Lieferung bieten, ist ebenso Teil unseres Erfolgs wie maßgeschneiderte Lösungen, und wir engagieren uns für die Zufriedenheit unserer Kunden mit wettbewerbsfähigen Preisen und schnellem Service.

Bei Enak haben wir verschiedene Modelle einfacher und effizienter mobiler Screening- und Zahnpflegeeinheiten entwickelt, basierend auf der Annahme, dass die ganze WELT Zugang zu allgemeiner medizinischer Versorgung und insbesondere zu zahnärztlicher Versorgung haben muss.
Völlig autark können sie sich an alle Reliefs und Klimazonen anpassen.

Mobile Zahnkliniken werden zu einem wichtigen Bestandteil des gesamten medizinischen Systems. All diese Dinge sind wichtig, um bessere Lebensgewohnheiten zu vermitteln und bessere Generationen heranzuziehen.

Einige technische Elemente wie unten,

Screening, Pflege, Chirurgie,
Intraoral- oder Panorama-Röntgen,
Einbau aller Marken,
Labor,
Installation von bis zu drei Behandlungsstühlen,
An lokale Vorschriften angepasster Mietschutz,
Selbständig,
Rollstuhlzugang,
Mobile Einheiten von 3,5 bis 32 Tonnen...
Enak'ta, dünyanın her yerindeki müşterilerimizin ihtiyaç ve isteklerine göre ''Mobil Sağlık Araçlarını'' dönüştürüyoruz.1993 yılında Almanya'da faaliyete geçerek 28 yıllık tecrübemizi Türkiye'de sürdürmekte ve dünya çapında ihracat yapmaktayız.

Enak , en doğru, üstün kalite ve güvenilir teslimatıyla ve müşteriye özel çözümleri başarımızın bir parçası olmasının yanı sıra ,rekabetçi fiyatlar ve hızlı hizmet ile müşteri memnuniyetine bağlı olarak faaliyetlerine Türkiye'de devam etmektedir.

Enak'ta, tüm DÜNYANIN genel tıbbi bakıma ve özellikle diş bakımına erişmesi gerektiği varsayımına dayanarak, basit ve verimli mobil tarama ve diş bakımı ünitelerinin farklı modelleri geliştirdik.
Tamamen kendi kendine yeterli, tüm kabartmalara ve iklimlere uyum sağlayabilirler.

Dental mobil klinikler, tüm tıbbi sistemin önemli bir parçası haline geliyor. Tüm bunlar, daha iyi yaşam tarzı alışkanlıkları kazandırmak ve daha iyi nesiller yetiştirmek için önemlidir.

Bazı teknik unsurlar mevcut

Tarama, Bakım, Ameliyat,
Ağız içi veya Panoramik Röntgen,
Her markanın montajı,
laboratuvar,
Üç dişçi koltuğuna kadar kurulum,
Yerel düzenlemeye uyarlanmış kira koruması,
kendi kendine yeterli,
Tekerlekli sandalye girişi,
3,5 tondan 32 tona kadar mobil üniteler...
Contactos
Kemal Kaya
Idiomas:
alemán, turco, inglés
Cómo encontrarnos
Turquía, Región del Mármara, 34776, Ataşehir -İstanbul, Şti. Barbaros Mah.Ahlat Sok.E Blok K6
Hora local del vendedor: 16:37 (+03)